Bubble Helmet is a villain who will appear in Ben 10: Omniverse.
General Information
Species
Unknown
Age
Unknown
Occupation(s)
Villain
Powers and abilities
Abilities
Poles that can shoot lasers
Relationships
Relatives
Unknown
Alias
Bubble Head (Cannonbolt)
Details
Voice Actor
John Dimaggio
First Appearance
The More Things Change: Part 1
Appearance
Bubble Helmet is a caterpillar-like alien, with a life-support power armor.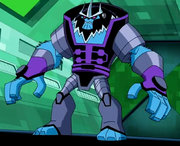 Powers and Abilities
Bubble Helmet has two poles that can swing around and shoot lasers. Bubble Helmet also has a laser gun.
Weaknesses
He cannot live on a planet like Earth without life support and will have trouble breathing without it.
Appearances
Ben 10: Omniverse
Trivia